Description
Butterfly Pea flower powder is pH sensitive, meaning it will react to acidic liquids. Try adding in some lemon or lime juice to your tea and watch it change from blue to pink! Or mix with alkaline water to watch it turn green! Butterfly pea buds themselves have a subdued flavor similar to a slightly more herbal black tea, but the plant-primarily functions as a natural dye that's subtle in flavor but bold in visual pop. Butterfly Pea is packed with flavonoids, quercetin, proanthocyanidin, and other antioxidants that support a wide range of health benefits.
Benefits:
Super Natural Blue Food Coloring
Great for Brain and Eye Health
Supports the immune system
Helps skin rejuvenation
Boosts mood and vitality
Butterfly Pea powder can be used as a natural pigment in food, and drink.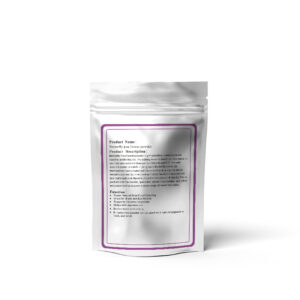 Do you like the natural color of blueberries? The same can be said of butterfly pea flowers. These flowers have been used in Southeast Asia for centuries as both a food and medicine. The beautiful butterfly pea flower is known to contain high levels of anthocyanin, which is a powerful antioxidant. Additionally, Butterfly pea powder is a good source of vitamin C, carotene, and other flavonoids. It's no wonder this powder has become such a popular supplement!
Butterfly pea powder can help support your overall health in many ways. The antioxidants in the powder can help reduce inflammation, scavenge free radicals, and protect cells from damage. The carotenes and flavonoids present in the powder can also help boost immunity. What's more, the vitamin C in the powder can help meet your daily needs for this essential nutrient.
If you're looking for a natural way to support your health, look no further than butterfly pea flower powder supplement! This powder provides numerous benefits and is easy to add to your favorite smoothie or beverage. Give it a try today!