Description
Eucommia ulmoides oliv is a plant of the Eucommia family (E-commiaceae), which contains high chlorogenic acid. Research results in recent years have shown that the content of chlorogenic acid in Eucommia ulmoides leaves is relatively high. Chlorogenic acid has a variety of pharmacological effects such as choleretic, antibacterial, antiviral, antihypertensive, increasing white blood cells and stimulating the central nervous system. It is an important raw material for health care products, food, medicine, cosmetics and other industries. Ortho acid has huge social benefits and economic significance.
Antihypertensive effect: It has been confirmed by clinical trials for many years that Eucommia chlorogenic acid has obvious antihypertensive effect, and the curative effect is stable, non-toxic and free of side effects.
Anti-tumor effect: Modern pharmacological experiments have shown that Eucommia chlorogenic acid has anti-cancer and anti-cancer effects.
Invigorating the kidney and enhancing immunity: Experiments show that chlorogenic acid of Eucommia ulmoides has the effect of stimulating the pituitary-adrenal cortex system and enhancing the function of adrenal cortex.
Anti-oxidation, anti-aging, anti-musculoskeletal aging: Eucommia chlorogenic acid contains a special component that can promote the synthesis and decomposition of collagen in human skin, bones and muscles, and has the functions of promoting metabolism and preventing decline. It can be used to prevent the skeletal and muscle decline of astronauts caused by weightlessness in space. At the same time, it is found that Eucommia chlorogenic acid has obvious anti-free radical effects both in vivo and in vitro.
Antibacterial and antiviral: Eucommia chlorogenic acid has strong antibacterial and anti-inflammatory effects.
Other effects: diuretic, choleretic, hypolipidemic, tocolytic, etc.
Chlorogenic acid COA
| | | |
| --- | --- | --- |
| Item | Standard | Test Method |
| Assay | Chlorogenic Acid 5%-98% | HPLC |
| Appearance | Green Fine Powder | Visual |
| Odor | Characteristic | Organoleptic |
| Particle Size | 95% passed 80 mesh | Ch. P. C. Rule 47 |
| Loss on Drying | ≤5.00% | Ch. P. C. Rule 52 |
| Ash | ≤5.00% | Ch. P. C. Rule 2302 |
| Heavy Metals | ≤10mg/kg | Colorimetric method |
| Arsenic (As) | ≤2mg/kg | Ch. P. C. Rule 21-ICP-MS |
| Lead (Pb) | ≤2mg/kg | Ch. P. C. Rule 21-ICP-MS |
| Mercury (Hg) | ≤0.1mg/kg | Ch. P. C. Rule 21-ICP-MS |
| Cadmium (Cd) | ≤1mg/kg | Ch. P. C. Rule 21-ICP-MS |
| Total Plate Count | ≤1000CFU/g | Ch. P. C. Rule 80 |
| Total Yeast & Mold | ≤100CFU/g | Ch. P. C. Rule 80 |
| Coliforms | ≤10CFU/g | Ch. P. C. Rule 80 |
| Salmonella | Negative | Ch. P. C. Rule 80 |
| Pesticide Residues | ≤10mg/kg | EC 1831/2003 |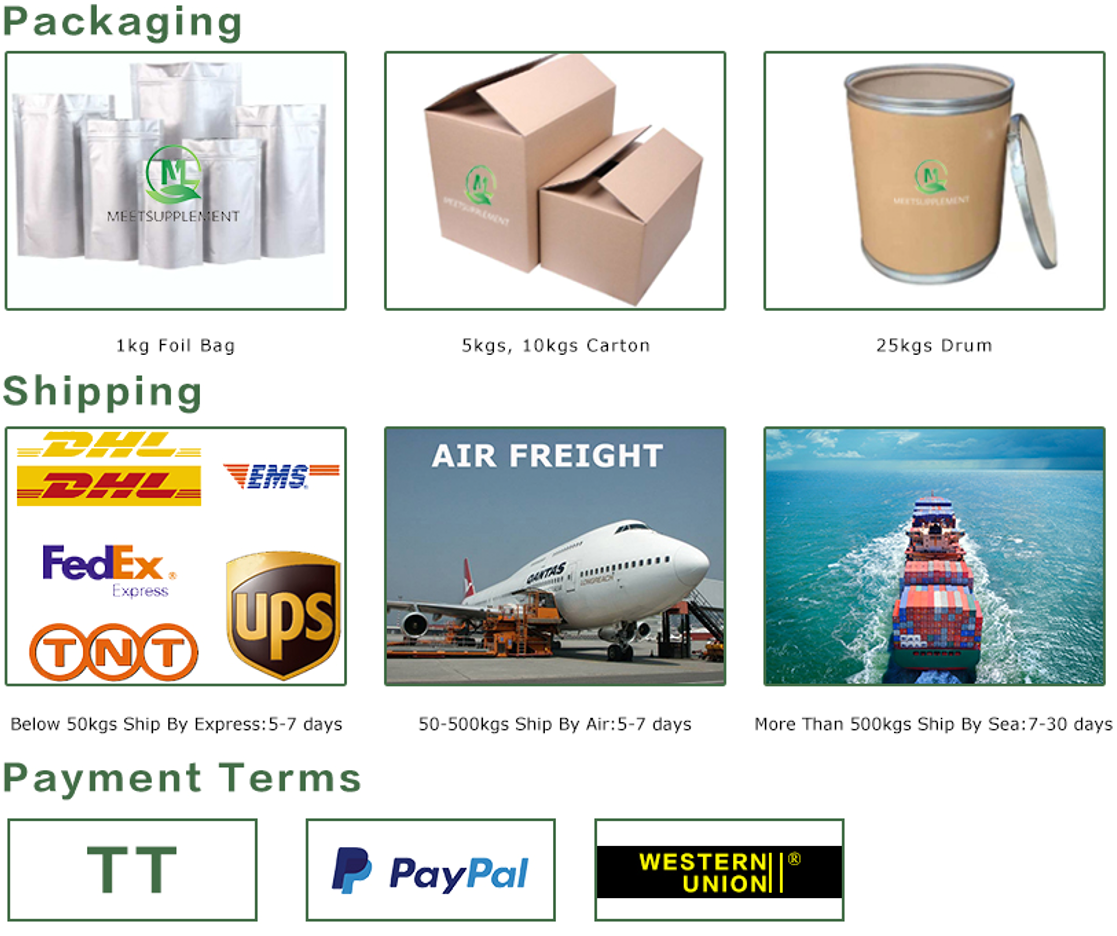 MEETSUPPLEMENT is a brand of Xi'an Herb Bio-Tech Co.,Ltd, we are a professional supplier of Chlorogenic acid, wholesale Chlorogenic acid, bulk supply Chlorogenic acid. Contact us to boost your business!